TOP 5 CHILDREN'S BOOKS:
PICTURE BOOKS:
1. THE BOOK WITH NO PICTURES
,
by B. J. Novak
2. THE DAY THE CRAYONS QUIT
,
by Drew Daywalt. Illustrated by Oliver Jeffers
3. PRESS HERE
,
by Hervé Tullet
4. DRAGONS LOVE TACOS,
by Adam Rubin. Illustrated by Daniel Salmieri
5. GOODNIGHT, GOODNIGHT, CONSTRUCTION SITE
,
by Sherri Duskey Rinker and Tom Lichtenheld\
SPOTLIGHT:
What could be fun about that?
After all, if a book has no pictures, there's nothing to look at but the words on the page.
Words that might make you say silly sounds... In ridiculous voices...
Hey, what kind of book
is
this, anyway?
At once disarmingly simple and ingeniously imaginative,
The Book With No Pictures
inspires laughter every time it is opened, creating a warm and joyous experience to share--and introducing young children to the powerful idea that the written word can be an unending source of mischief and delight.
MIDDLE GRADE:
1. WONDER
,
by R. J. Palacio
2. THE ONE AND ONLY IVAN
,
by Katherine Applegate
3. THE CROSSOVER,
by Kwame Alexander
4. ESCAPE FROM MR. LEMONCELLO'S LIBRARY
,
by Chris Grabenstein
5. THE PRINCESS IN BLACK
,
by Shannon Hale and Dean Hale. Illustrated by LeUyen Pham
SPOTLIGHT:
THE ONE AND ONLY IVAN
Katherine Applegate
Ivan is an easygoing gorilla. Living at the Exit 8 Big Top Mall and Video Arcade, he has grown accustomed to humans watching him through the glass walls of his domain. He rarely misses his life in the jungle. In fact, he hardly ever thinks about it at all.
Instead, Ivan thinks about TV shows he's seen and about his friends Stella, an elderly elephant, and Bob, a stray dog. But mostly Ivan thinks about art and how to capture the taste of a mango or the sound of leaves with color and a well-placed line.
Then he meets Ruby, a baby elephant taken from her family, and she makes Ivan see their home—and his own art—through new eyes. When Ruby arrives, change comes with her, and it's up to Ivan to make it a change for the better.
Katherine Applegate blends humor and poignancy to create Ivan's unforgettable first-person narration in a story of friendship, art, and hope.
YOUNG ADULT:
1. PAPER TOWNS
,
by John Green
2. LOOKING FOR ALASKA
,
by John Green
3. THE FAULT IN OUR STARS
,
by John Green
4. MISS PEREGRINE'S HOME FOR PECULIAR CHILDREN
,
by Ransom Riggs
5. DOROTHY MUST DIE,
by Danielle Paige
SPOTLIGHT:
LOOKING FOR ALASKA
John Green
Before.
Miles "Pudge" Halter's whole existence has been one big nonevent, and his obsession with famous last words has only made him crave the "Great Perhaps" (François Rabelais, poet) even more. He heads off to the sometimes crazy, possibly unstable, and anything-but-boring world of Culver Creek Boarding School, and his life becomes the opposite of safe. Because down the hall is Alaska Young. The gorgeous, clever, funny, sexy, self-destructive, screwed-up, and utterly fascinating Alaska Young, who is an event unto herself. She pulls Pudge into her world, launches him into the Great Perhaps, and steals his heart.
After.
Nothing is ever the same.
SERIES:
1. THE MAZE RUNNER
,
by James Dashner
2. DIARY OF A WIMPY KID
,
written and illustrated by Jeff Kinney
3. HARRY POTTER
,
by J. K. Rowling
4. HEROES OF OLYMPUS
,
by Rick Riordan
5. DIVERGENT
,
by Veronica Roth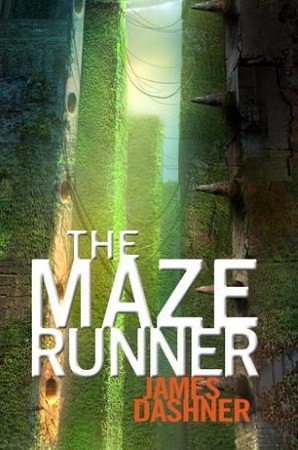 THE MAZE RUNNER
James Dashner
If you ain't scared, you ain't human.
When Thomas wakes up in the lift, the only thing he can remember is his name. He's surrounded by strangers—boys whose memories are also gone.
Nice to meet ya, shank. Welcome to the Glade.
Outside the towering stone walls that surround the Glade is a limitless, ever-changing maze. It's the only way out—and no one's ever made it through alive.
Everything is going to change.
Then a girl arrives. The first girl ever. And the message she delivers is terrifying.
Remember. Survive. Run.
Disclaimer: All information was gathered from Nytimes.com and Goodreads.com.