THE DAY THE CRAYONS QUIT

,

by Drew Daywalt. Illustrated by Oliver Jeffers

THE BOOK WITH NO PICTURES

,

by B. J. Novak

PETE THE CAT'S GROOVY GUIDE TO LIFE

,

by James Dean and Kimberly Dean. Illustrated by James Dean

I WISH YOU MORE

,

by Amy Krouse Rosenthal. Illustrated by Tom Lichtenheld

DRAGONS LOVE TACOS

,

by Adam Rubin. Illustrated by Daniel Salmieri
Drew Daywalt. Illustrated by Oliver Jeffers
Poor Duncan just wants to color. But when he opens his box of crayons, he finds only letters, all saying the same thing: We quit!
Beige is tired of playing second fiddle to Brown. Blue needs a break from coloring all that water, while Pink just wants to be used. Green has no complaints, but Orange and Yellow are no longer speaking to each other.
What is Duncan to do? Debut author Drew Daywalt and
New York Times
bestseller Oliver Jeffers create a colorful solution in this playful, imaginative story that will have children laughing and playing with their crayons in a whole new way.
MIDDLE GRADE:
THE ONE AND ONLY IVAN

,

by Katherine Applegate

I AM MALALA

,

by Malala Yousafzai with Patricia McCormick

BROWN GIRL DREAMING

,

by Jacqueline Woodson

PUBLIC SCHOOL SUPERHERO

,

by James Patterson and Chris Tebbetts. Illustrated by Cory Thomas
R. J. Palacio
You can't blend in when you were born to stand out.
My name is August. I won't describe what I look like. Whatever you're thinking, it's probably worse.
August Pullman wants to be an ordinary ten-year-old. He does ordinary things. He eats ice cream. He plays on his Xbox. He feels ordinary - inside.
But Auggie is far from ordinary. Ordinary kids don't make other ordinary kids run away screaming in playgrounds. Ordinary kids don't get stared at wherever they go.
Born with a terrible facial abnormality, Auggie has been home-schooled by his parents his whole life, in an attempt to protect him from the cruelty of the outside world. Now, for the first time, he's being sent to a real school - and he's dreading it. All he wants is to be accepted - but can he convince his new classmates that he's just like them, underneath it all?
Narrated by Auggie and the people around him whose lives he touches forever,
Wonder
is a funny, frank, astonishingly moving debut to read in one sitting, pass on to others, and remember long after the final page.
PAPER TOWNS

,

by John Green

LOOKING FOR ALASKA

,

by John Green

THE FAULT IN OUR STARS

,

by John Green

RED QUEEN

,

by Victoria Aveyard

MISS PEREGRINE'S HOME FOR PECULIAR CHILDREN

,

by Ransom Riggs
SPOTLIGHT: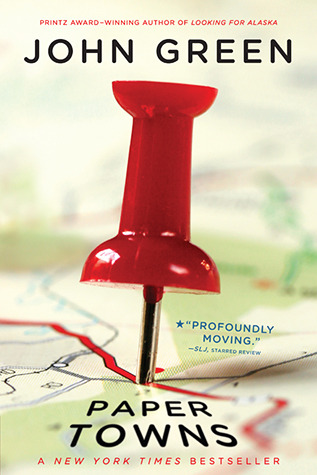 PAPER TOWNS
John Green
Quentin Jacobsen has spent a lifetime loving the magnificently adventurous Margo Roth Spiegelman from afar. So when she cracks open a window and climbs into his life—dressed like a ninja and summoning him for an ingenious campaign of revenge—he follows. After their all-nighter ends, and a new day breaks, Q arrives at school to discover that Margo, always an enigma, has now become a mystery. But Q soon learns that there are clues—and they're for him. Urged down a disconnected path, the closer he gets, the less Q sees the girl he thought he knew...
SERIES:
DIVERGENT

,

by Veronica Roth

THE MAZE RUNNER

,

by James Dashner

DIARY OF A WIMPY KID,

written and illustrated by Jeff Kinney

BIG NATE

,

written and illustrated by Lincoln Peirce

THE SELECTION

,

by Kiera Cass
SPOTLIGHT:
Veronica Roth
In Beatrice Prior's dystopian Chicago world, society is divided into five factions, each dedicated to the cultivation of a particular virtue--Candor (the honest), Abnegation (the selfless), Dauntless (the brave), Amity (the peaceful), and Erudite (the intelligent). On an appointed day of every year, all sixteen-year-olds must select the faction to which they will devote the rest of their lives. For Beatrice, the decision is between staying with her family and being who she really is--she can't have both. So she makes a choice that surprises everyone, including herself.
During the highly competitive initiation that follows, Beatrice renames herself Tris and struggles alongside her fellow initiates to live out the choice they have made. Together they must undergo extreme physical tests of endurance and intense psychological simulations, some with devastating consequences. As initiation transforms them all, Tris must determine who her friends really are--and where, exactly, a romance with a sometimes fascinating, sometimes exasperating boy fits into the life she's chosen. But Tris also has a secret, one she's kept hidden from everyone because she's been warned it can mean death. And as she discovers unrest and growing conflict that threaten to unravel her seemingly perfect society, Tris also learns that her secret might help her save the ones she loves . . . or it might destroy her.